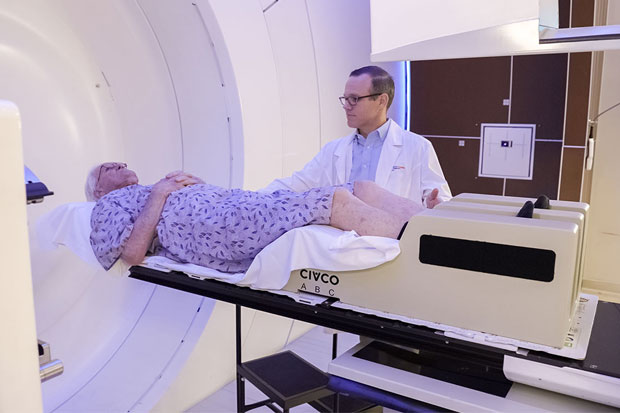 The National Proton Therapy Association (NAPT) recently hosted the annual National Proton Conference for physicians, managers, physicists and other professionals from proton therapy institutions from across the United States.
Dr. James Gray, radiation oncologist and medical director of the Provision CARES Proton Therapy Center in Nashville, is on the Board of Directors of NAPT and the Expert Commission of Proton Therapy Physicians. We met with Dr. Gray to ask him a few questions about new technologies and advanced ideas, which are discussed by leading experts of proton therapy in the USA.

What is the National Proton Conference?
The National Proton Conference is organized by the National Association of Proton Therapy, which includes various institutions and individuals interested in the development and promotion of proton therapy in the United States. This is a gathering of people who operate and maintain proton centers, which can be called a gathering of minds. This is a very effective way to exchange ideas and demonstrate the results of the latest research.
Who is participating in the conference?
This is a mixed group of specialists - doctors of proton therapy, directors, managers of medical centers, physicists, dosimetrists. This is a wide range of people who help patients undergoing cancer treatment.
What topics are being discussed?
The NAPT conference usually reviews the results of the latest research that we are working on to demonstrate the potential superiority of proton therapy in the field of radiation oncology. We also discuss business issues. For example, how to finance and build a proton center?
We are discussing numerous new technologies in this area. For example, we considered FLASH therapy (a method of treatment using extremely high-power radiation doses). This is an incredibly powerful technology, and the reason why it is of great importance in the field of proton therapy is that it can only be carried out on a proton cyclotron accelerator. Thus, with some modification of the equipment, the Provision medical center will be able to apply this technology.
At the conference, we also talk about how we can reduce the costs of developing and operating proton therapy centers to make it more accessible to the public. Thus, a wide range of topics are discussed there, and I find them very useful for learning about some of the latest ideas and methods that are currently being promoted.
What is the main conclusion you have made for yourself following the results of this year's conference?
Of course, this is what proton therapy is alive and well! It still occupies a fairly small segment of the general radiotherapy market, but it is rightfully one of the most technologically advanced methods of radiation treatment for patients. This method still has a very high cost, which is inevitable when using proton therapy, but it has obvious advantages, and therefore enthusiasm for it persists.
If you look at many large academic institutions, you will see that they are strengthening their positions. Some of the pioneer centers of proton therapy (MD Anderson, Mayo Clinic, University of Pennsylvania, University of Florida) not only continue to work successfully, but also expand their capacities. They want to increase the availability of proton therapy to be able to treat more patients.

How does NAPT advance the future of proton therapy?

We just want proton therapy to take its rightful place in healthcare. We are not trying to make proton therapy take over the whole world of radiation therapy. However, now only about 1% of all patients who need radiation therapy are treated with protons. At the same time, from 10 to 15% of patients will benefit and receive a clear benefit from treatment with this method.
This means that we need more proton centers than we have now, and we need to use the existing centers with maximum efficiency. NAPT is trying to make sure that proton therapy is not legally pushed into a dark corner somewhere. As for the interests of society, NAPT is ready to protect them. We want to make proton therapy accessible to people so that patients know about its existence. We want to educate people, promote research and promote the proper development of proton therapy accessibility for the population.
The original news can be read here
---
Back to list
---