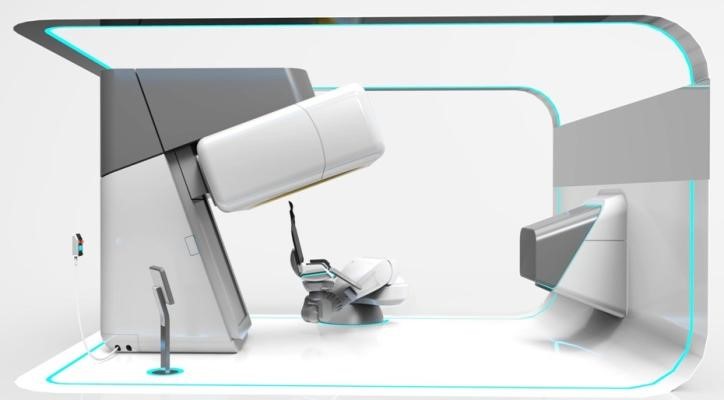 The Israeli company P-Cure has developed a system designed for installation in existing radiation therapy rooms and focused on the largest market of novelties of radiation therapy equipment.
P-Cure Ltd., the manufacturer of the most compact adaptive proton therapy system without gentry with 360° irradiation angles, announced today the opening of a clinical research and training center on the territory of its head office in Israel. The center is conveniently located 20 minutes away from Tel Aviv or Jerusalem, and it has the world's most compact proton therapy system, occupying the area of a standard bunker for a linear accelerator of radiation therapy.
The center will serve as an advanced clinical platform for conducting medical procedures and developing proton therapy protocols for patients, as well as for training medical staff. The training will allow clinics that are not familiar with proton therapy to quickly master this technology.
Located in the P-Cure Research and Development Center, the multifunctional center includes a fully operational clinical proton therapy system, including a compact accelerator, a gentry—free treatment room with 360° irradiation angles and access to all procedures for planning and conducting treatment - and all this within the space occupied by the existing bunker for the linear accelerator.
"P-Cure has developed a proton therapy system that is changing the paradigm of the capabilities of cancer centers around the world, allowing them to offer proton therapy services to their patients," says Dr. Zion Koren, chairman of the Israeli Association of Medical Physics. "Instead of building a separate building, the cancer center can expand its capabilities by installing a compact P-Cure proton therapy system in an existing bunker for a linear accelerator."
Proton therapy has proven its effectiveness in the treatment protocols of patients with cancer since the first proton center in this hospital began receiving patients 32 years ago. A distinctive feature of proton therapy is that it works more precisely than any other form of radiation therapy. Unlike X-rays, proton therapy has a small amount of incoming dose, which practically does not go beyond the tumor. This advantage of proton therapy helps to get rid of many harmful side effects of radiation therapy, and also allows doctors to safely deliver higher doses of radiation to tumors.
However, despite all the clinical benefits of proton therapy, there are only 112 active centers worldwide. Less than 2% of patients who can benefit from proton therapy have access to this advanced treatment method. The limiting factor is the cost of equipment and construction. A typical total cost of a ready-made proton center with one treatment room can be more than $ 50 million. The new device saves clinics from construction costs and halves the cost of equipment. The compact P-Cure system installed in existing radiation oncology departments removes the economic barrier to expanding the number of patients who can benefit from proton therapy.
The original news can be read here
---
Back to list
---