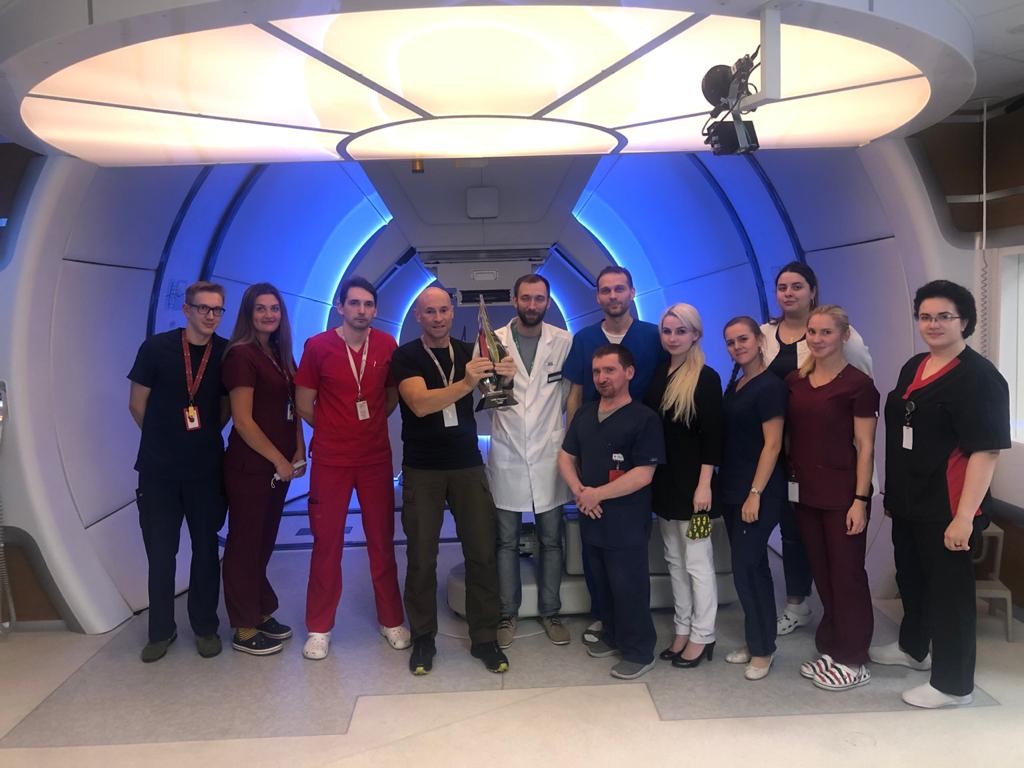 Varian Medical Systems, the world leader in the proton therapy equipment market, presented the Berezin Sergey Medical Institute (MIBS) with the commemorative trophy confirming that the first Russian proton center has treated its 1,000th patient.
The milestone was reached back in July 2020, when two-year-old Semyon Chuvakov from Moscow completed his treatment at the MIBS Proton Therapy Center. But due to the pandemic, the commemorative trophy from the manufacturer of the ProBeam proton therapy system did not arrive in St. Petersburg until October.
The MIBS believes that despite a very challenging year and serious epidemiological restrictions, cancer patients should not be left without medical care, so the proton center team continues to work without slowing down. Now 85-90 people are being treated daily in its two treatment rooms.
The first proton center in Russia and the CIS countries gained momentum gradually. Although it opened its doors in September 2017, it initially worked in test mode. Active treatment of cancer patients with protons began here in February 2018, when specialists from the Roberts Proton Therapy Center, part of the Abramson Cancer Center in Pennsylvania, USA, found a possibility to come to St. Petersburg and help the radiologists and medical physicists of MIBS draw up treatment plans for the first patients.
Around the world, such high-tech healthcare facilities reach their full capacity within a few years, and St. Petersburg's was no exception. In 2018, about 200 people underwent proton therapy here. The following year, thanks to mastering the sophisticated technology of modern radiation treatment and the experience gained, the doctors of the MIBS Proton Therapy Center treated more than 400 patients, which was in line with the development plan.
In 2020, the 400-patient benchmark was already reached in July, and the number of patients treated with proton beam radiotherapy is expected to double by the end of the year, and the Proton Therapy Center will reach its planned capacity of 800 patients per year. The three-year goal for the proton center to reach its design targets of full capacity is unprecedentedly short.
---
Back to list
---